Packing for camp? How exciting! We hope after reading our summer camp packing list that you'll feel prepared for a fun-filled summer at Camp Friendship.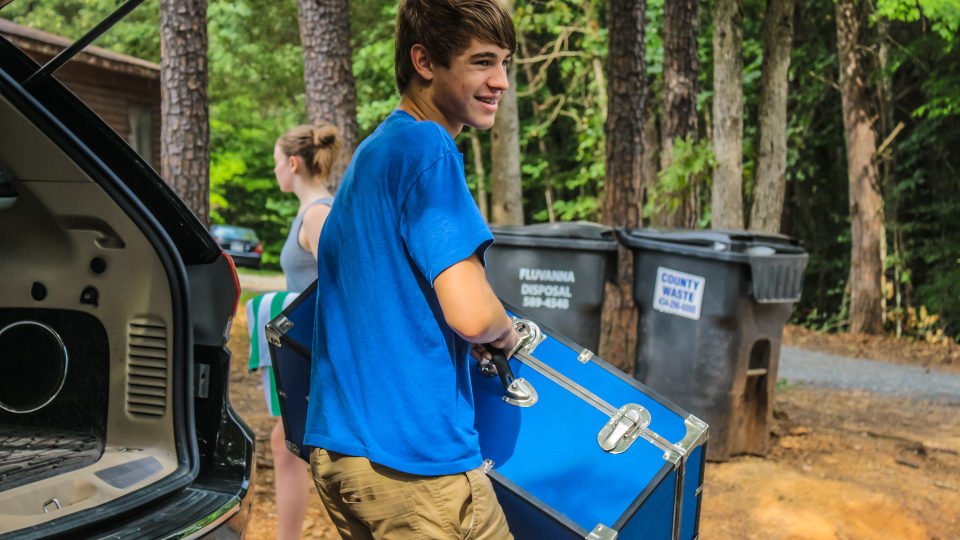 Camp gear to bring
Suitcase or duffel?
It doesn't matter which! Campers are free to bring a large duffel bag, a suitcase with or without wheels, a large plastic tub, or even a set of plastic drawers. There's no need to buy anything specific, whatever you have at home will work just fine, but we don't recommend large trunks because of their size. Please note that all our cabins and bunks are different, so there's no guarantee that luggage will fit under the bed. However, our awesome counselors will help campers store luggage so that it's out of the way of cabin fun.
Clothing
Pack comfortable clothes that are okay to get messy and are adventure-ready. Kids go through more clothes at camp than you'd expect. While they're actively enjoying the outdoors, they're actively getting dirty too! Please ensure your camper has enough clothes to change a couple of times each day to stay comfortable, healthy, and dry.
Our Camp Store does have some great CF swag. However, you'll want to ensure your camper has enough of their own clothes to last at least a week and a half. For our campers staying multiple weeks, we'll do your laundry for you towards the end of each week.
Although it is summer camp, it can be cool at night, so include a few sets of warm clothes on your camp packing list. Afternoon rain showers are fairly common in Virginia, so a light waterproof jacket is a must.
Camp Tip: Two-piece swimsuits can be easier for younger campers to put on and take off.
We have a closed-toe shoes rule at camp to ensure everyone's tootsies stay safe from rocks, twigs, and splinters. Tennis shoes are perfect for everyday wear. If campers want to wear flip flops, those are best saved for shower time. We recommend a pair of closed-toe water shoes like Crocs or Keens that easily slip on and off for the lake or pool.
Personal items
Although camp can be messy, it's important to stay clean and healthy. Pack a washcloth, shampoo and conditioner, body wash, deodorant, toothpaste, a toothbrush (or two!) and any other personal items campers might need. Please consider packing their favorite toiletry items rather than selecting new travel sized ones. Many campers realize the toothpaste packed isn't to their taste or they don't like the smell of their new soap. Knowing they will use their familiar toiletry items with confidence is a must for good hygiene at camp.
If your camper forgets or runs out of any of these items, we always have extra and are happy to help. Some campers like to bring all these items in a plastic basket or shower caddy for easy carrying. When packing liquids, use plastic bags to avoid spills and leaks.
Required items
There are a few essential items to put on your camp packing list. Firstly, a water bottle is a MUST. Campers spend more time outside than they are typically used to and can easily become dehydrated during the busy camp day. Although counselors encourage campers to drink water during meals and activities, campers should carry a water bottle with them at all times. They can fill up at the various hydration stations around camp. Staying hydrated is cool at camp, we even have special CF water bottles and water bottle stickers to prove it.
What's the thing we hear our counselors say more often than anything else? "Don't forget your sunscreen and bug spray!" Campers enjoy many activities around our forests and fields, and bug spray is especially important in the mornings and evenings.
It's always a good idea for campers to bring a small backpack to carry their belongings between activities. Backpacks are handy to keep a towel, bathing suit, water bottle, sunscreen, bug spray, an extra pair of socks, and that perfectly shaped pet rock you just found!
While our cabins have electricity, they are not air conditioned. Campers should bring battery powered fans to help them stay cool in the cabin. We recommend packing extra batteries and practicing how to change out the batteries with your camper.
Linens and Laundry
Camp beds are all single bunk beds. We encourage parents to pack twin size sheets regardless of whether campers bring a sleeping bag or blanket. You can't go wrong by packing an extra sheet or two as campers are asked to make their beds as part of their daily cabin chores. There's nothing like jumping into a freshly made bed with clean sheets at the end of a day full of fun!
Campers should come with at least one bath towel and one beach towel, but extras are always recommended for campers who will be swimming multiple times during the day.
Campers who fly into camp from other states and countries can receive camp linens on arrival. Camp linen sets include a pillow, blanket, sheets, and towels and are refreshed at the end of each week.
Camp Tip: Pack your camper with a mesh laundry bag, even if they're only staying one week. It helps campers stay organized and differentiate from their clean and dirty clothes. Additionally, it makes packing up at the end of the week a breeze.
Horseback riding gear
If your camper is enrolled in the Equestrian Program, they will need to pack some program-specific gear. It is important to be comfortable when riding, long pants are required, and bringing extra socks is always a good idea. Chaps are welcome if you have them. Make sure to bring your riding boots or hard-soled shoes with a heel. If you have your own helmet, you're welcome to bring it to camp as long as it's ASTM-approved. If you are missing gear, you are more than welcome to borrow some from camp. There's no need to bring your own tack and grooming supplies though – we have plenty here!
What NOT to bring
If something is valuable, treasured, fragile or potentially dangerous, leave it off your summer camp packing list! Campers should also leave all electronics at home. Camp Friendship is a unique experience where children can truly connect without the use of digital devices. Please give your child the chance to make these connections by leaving phones and all other electronics at home. For our friends who travel to camp from other states and countries, we will gladly keep electronic items safe and return them upon departure.
Packing pro tips
Label your stuff
Please don't let your camper's stuff join the Lost and Found mountain. We encourage parents to label every item, article of clothing, and piece of equipment with your camper's first and last name.
Companies such as Mabel's Labels and Oliver's Labels have easy-to-use waterproof labels that help to avoid mix ups and lost items. You can even purchase these labels directly through your CampInTouch account by selecting "Camper Clothing Labels".
Pack medication in original packaging
All medication, prescription or non-prescription (including vitamins and over-the-counter medication), must be brought to camp in the original packaging or in a blister pack pre-packaged by a pharmacy. Medication will be handed to the Nurse on check-in day and kept in our Health Center for safekeeping.
Make letter writing easy
Help you to help…you! If you want to hear from your camper while they're at camp, it's wise to send them with letter-writing materials such as e-Letter paper, dark ink pens (not pencils), pre-addressed envelopes, stamps, postcards or smoke signals (just kidding!) Campers have cabin time each day where they can choose to write home.
Camp Tip: Most campers write their letters from their bunk bed. A book light with a clip can be really helpful for younger campers still perfecting the art of holding a flashlight while writing.
Please remember that even the best of intentions can be forgotten. Campers have exciting new games to play with friends, the chance to finish that friendship bracelet they've been working on, time to take a nap, or chat to their counselor with an interesting accent. Please don't be disappointed if you don't receive a letter from your camper within the first day or two. We'll do our best to encourage them to write home. Sending them with the materials to make it quick and easy certainly helps.
Bring a few home comforts
If this is your camper's first time at sleep-away camp, certain reminders of home can be a nice touch. A favorite book, comfortable blanket or family photo can help make their cabin feel a little more homey. Games for cabin time are always a great move too. If your child has a favorite stuffed animal or something very dear to them, we suggest leaving that at home and finding a 'camp favorite' to bring to camp. We would hate for your child's favorite item to go missing!
Help your camper re-pack
Include an UN-checked copy of your packing checklist in your camper's things so they can use it to re-pack and come home. This helps them to ensure they have everything and reduces Lost and Found at Camp—yay!
Don't let packing for camp stress you and your camper out! Use our printable packing checklist to make packing a breeze.