We know being a kid can be hard, but being yourself should be easy!
A day at Camp Friendship is anything but typical!
Check out these videos for a closer look at each of our villages. Each day is full of fun activities, epic adventures, and chances to connect with friends both new and old.
Click Here for more information about each of our camp programs.
Cabin Fever (Printables)
Looking for camp fun at home? Check out our CF printables to keep the camp feeling going all year long!
What does a camp day look like?
Junior Village
7:00 Rise and Shine
8:00 Breakfast
8:45 Flag
9:00 Activity
10:30 Activity
12:00 Cabin Change Time
12:30 Lunch
1:25 Free Swim
2:30 Cabin Time / Snack Bar
4:45 Activity
5:45 Activity
6:45 Dinner
7:30 Evening Activity
8:30 Showers
9:30 Goodnight CF!
Senior Village
7:00 Rise and Shine
8:00 Breakfast
8:45 Flag
9:00 Activity
10:30 Activity
12:00 Village Change Time
12:30 Lunch
1:25 Village Time / Snack Bar
2:30 Free Swim
4:45 Activity
5:45 Activity
6:45 Dinner
7:30 Evening Activity
8:30 Showers
10:00 Goodnight CF!

Equestrian Camp
7:00 Rise and Shine
8:00 Breakfast
9:00 Ring Lesson
11:00 Horsemanship
12:00 Wash Up for Lunch
12:30 Lunch
1:30 Free Swim
2:30 Village Time/Snack
3:30 Fun Ride
5:00 Barn Chores
6:00 Dinner
7:00 Evening Activity
8:00 Showers
10:00 Goodnight CF!
Camper FAQ
If you've got questions, we've got answers! Here's what many campers have asked us: Have a question we didn't answer?
Camp Life & Activities
Campers in Traditional Camp have activity blocks each day in the morning and afternoon. In between the morning and afternoon activities we have Free Swim in the lake or pool, cabin time to rest or write letters home, and Snack Bar/Camp Store time. In the evenings, we have fun evening activities like slip 'n slide, dance parties and cookouts!
Before you arrive at camp, you will choose your top 8 morning Specialty Activities, which meet every day. When you arrive at camp, you will choose your afternoon Village Activities, which are different every day. On Monday morning you'll get your own unique schedule of activities for the week. Sneak a peak at all the activities available!
Weekends at camp are awesome! During our 2-week sessions we have special activities and swim time happening over the weekend. If you are staying at camp between sessions, you'll have a relaxed weekend of games, activities, swimming, and a movie night.
There's no such thing as rain at camp – only liquid sunshine! Most activities can continue in the rain or will be relocated to a covered area nearby if there's a thunderstorm. Afternoon thunderstorms are a great time to challenge your counselors to a game of indoor Gaga, play a card game with cabin mates or finish that friendship bracelet you started!
No big deal! Camp Friendship has over 30 activities, so there's plenty to do away from the water. We do have a daily free swim time at the lake or pool, but if you decide not to swim there's always beach volleyball, card games and friendship bracelets to make! Campers who do want to swim during the week will be asked to do a quick swim check when they arrive at camp. If our lifeguards think it would be safer for you to wear a life jacket when you swim in the lake, we'll help you to pick one out so you can enjoy the zipline, rope swing, slide and high dive!
Most likely you'll be having such a good time that you won't even think about calling home! However, we know your parents will be missing you and wanting to hear from you, so we ask campers to write home at least once a week during cabin time. Camp has an e-Letter system for you and your parents to exchange emails as often as you like. Just write a letter on your special e-Letter paper and give it to your counselor, they'll take care of the rest and will bring you email replies from your parents when we receive them. Postcards and snail mail letters are welcome too! Read more about why it's great to unplug from technology at camp.
Cabin Life
See for yourself with our virtual tour! All our cabins have bunk beds, electricity and screened windows. Cabins are not air-conditioned and do not have ceiling fans, but feel free to bring your own fan to stay cool! Junior Villages and Equestrian Village lodging have bathrooms inside, while Senior Village cabins have bath houses just a short distance away.
Counselors are the fun-loving adults that take care of you when you're at camp. Counselors at Camp Friendship are kind, caring and interesting people that come from all over the world. They love teaching activities and having fun with you. They're always there to answer questions or help you with anything you need!
No! Every summer we have first time campers of all ages, so you definitely won't be the only camper who hasn't been to Camp Friendship before.
Making friends is what Camp Friendship is all about! You'll have the chance to make friends with your cabin mates, but you'll also meet so many new people in your different daily activities.
No! Every week, we have campers from all over the United States and around the world join us here at camp.
Great – the more the merrier at Camp Friendship! If you're coming to camp with a friend, you can request to share the same cabin. Friends will likely do different activities throughout the day but will be together at the beginning and end of each day and during cabin time.
Camp Food
Camp food is great, and there are always so many options to choose from during our buffet style meals! If you don't like scrambled eggs for breakfast, we have loads of choices including toast and cereal. If you don't like pizza, we have pasta and more! We have a full salad bar and sandwich bar available during lunch and dinner in case you want to build your own. All food is nut free and there's also a vegetarian, vegan and gluten free option at each meal. There's always plenty to eat at meal times, but don't forget to leave room for dessert!
Camp days are long and busy, so we have Snack Bar time every afternoon to make sure you have enough energy to do your activities! At Snack Bar, you can select a drink and snack each day. If you're hungry in between activities, the Dining Hall is always open for you to grab some fresh fruit or cereal before heading to your next activity.
Not a problem! As long as we know about your specific allergies beforehand, our kitchen staff are always more than happy to help.
What to Bring
Nope! Camp Friendship is technology-free, and we love it that way. Trust us, you won't even miss it when you're here!
Wear comfortable clothes that are okay to get messy! We've created a handy packing list to make sure you have everything you need when you're at camp!
Our Camp Store is a great back up if you've forgotten something! We sell water bottles, bug spray, toothpaste and CF-branded clothing to remember us by. If you need something to be mailed to you, just tell your counselor and they can coordinate it with the Village Coordinator.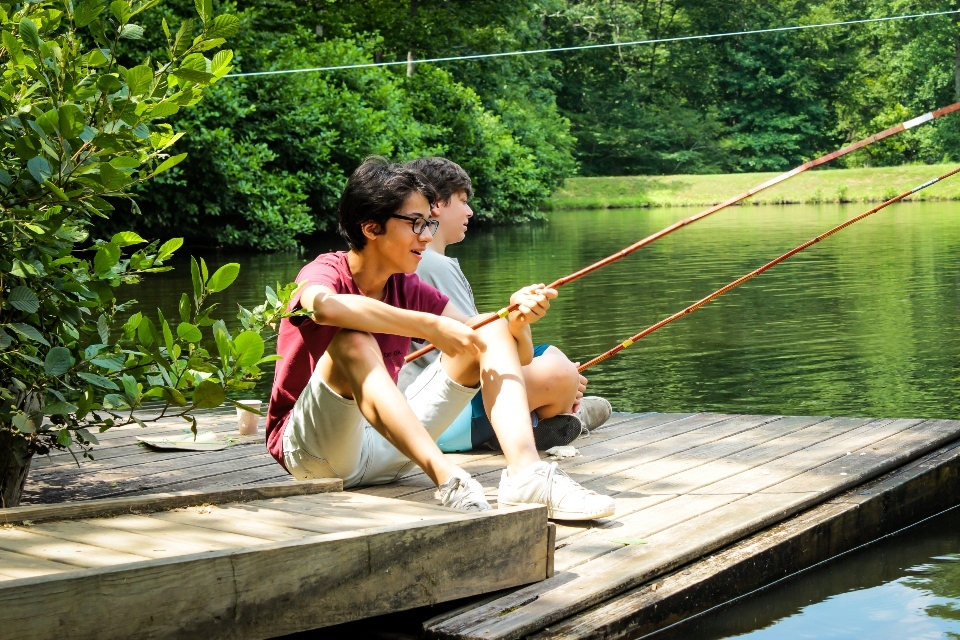 Wait, what, no phones?!?!
Read our blog on why it's awesome to get a ton of fresh air and go technology free for a week at Camp!
Follow Us!
(But remember to put your phone down and live in the moment too!)