Adults always ask:
"When can WE come to Camp?"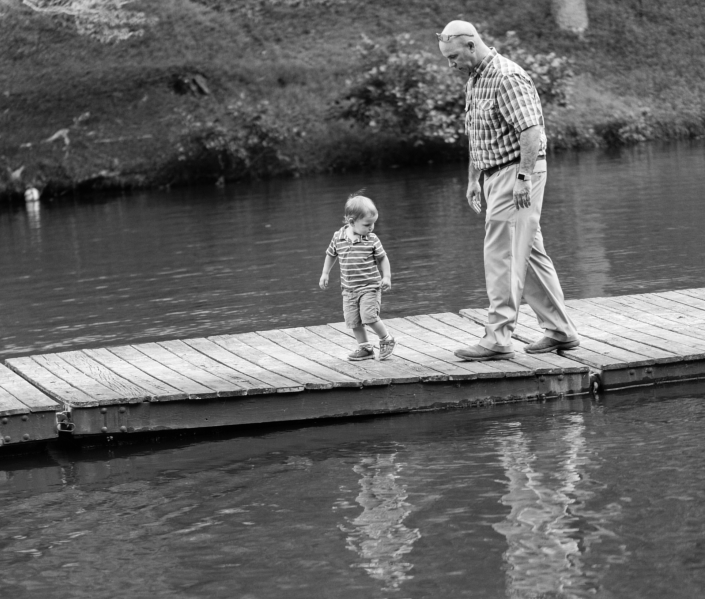 Camp fun has no age limit!
When you're here at Camp Friendship, you not only have a full slate of recreational camp activities at your disposal, you also spend your days surrounded by the natural beauty of Virginia forests near the Blue Ridge Mountains. While we have plenty to offer during each Family Camp experience, you can choose what you wish to do with your time. We offer a world unto itself – a place where time seems to pass more slowly, causing you to wonder what decade you're in.
Family Camp Dates & Rates
We can't wait to welcome the whole family!
While the pandemic has changed so much of our normal lives, the wonders of the great outdoors remain the same as always. Enjoy the beautiful foothills of the Blue Ridge Mountains while you explore our hiking trails, make memories and keepsakes at arts & crafts, and relax under the fireflies and stars during our Saturday night lawn party. We'll have trail rides amongst the woods, hayrides in our horse fields, canoeing and kayaking on the lake, archery on the range, and so much more!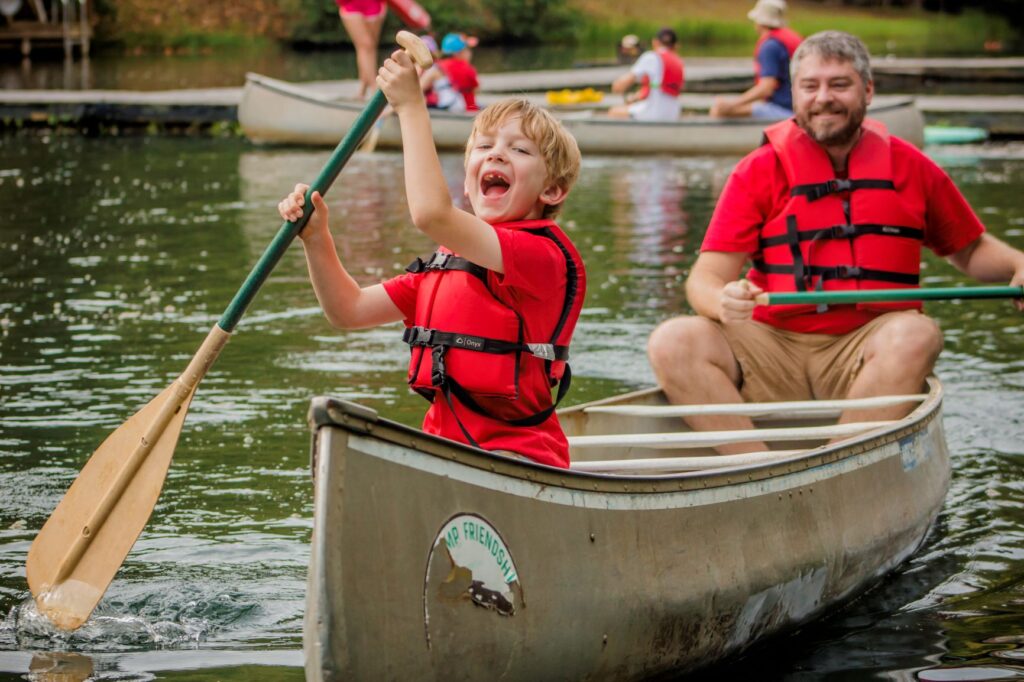 Summer Family Camp 2022
August 22-28, 2022
1-week sessions (Monday – Sunday)
Check In: 4pm–6pm | Check Out: 12pm
$750 for adults | $600 for children | Children under the age of 4 stay for free!
Individuals can be added for a portion of your stay for $125/person/day.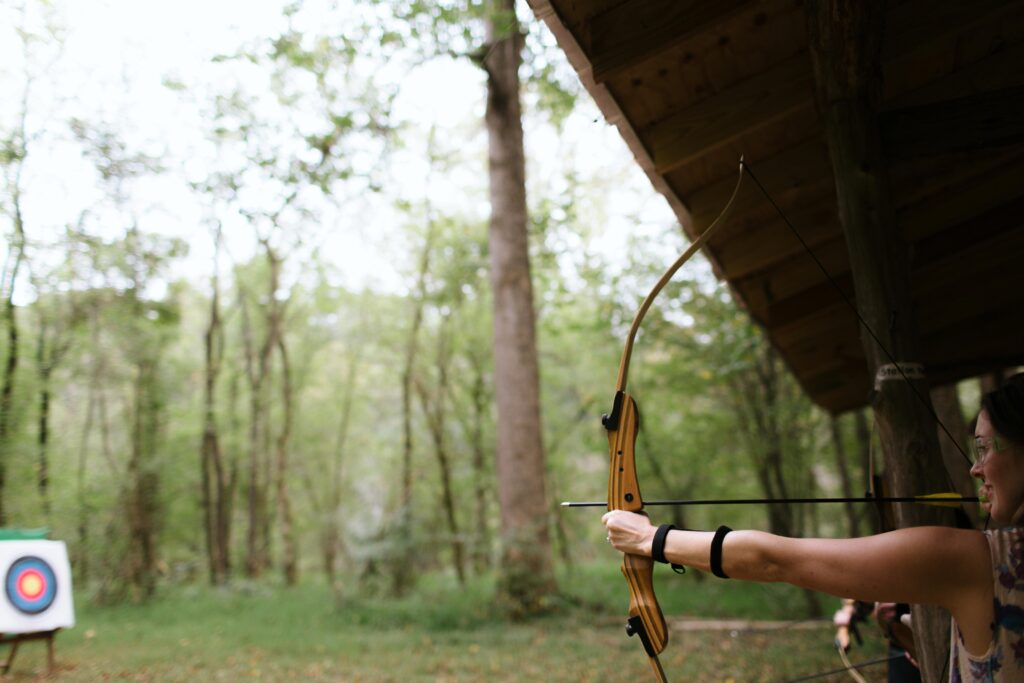 Fall Family Camp Weekend 2022
October 21-23, 2022
Weekend Session (Friday-Sunday)
$250 per person | Children under the age of 4 stay for free! | Price includes lodging, meals, and activities.
Fall Family Camp Weekend is FULL. To join the waitlist, complete the application.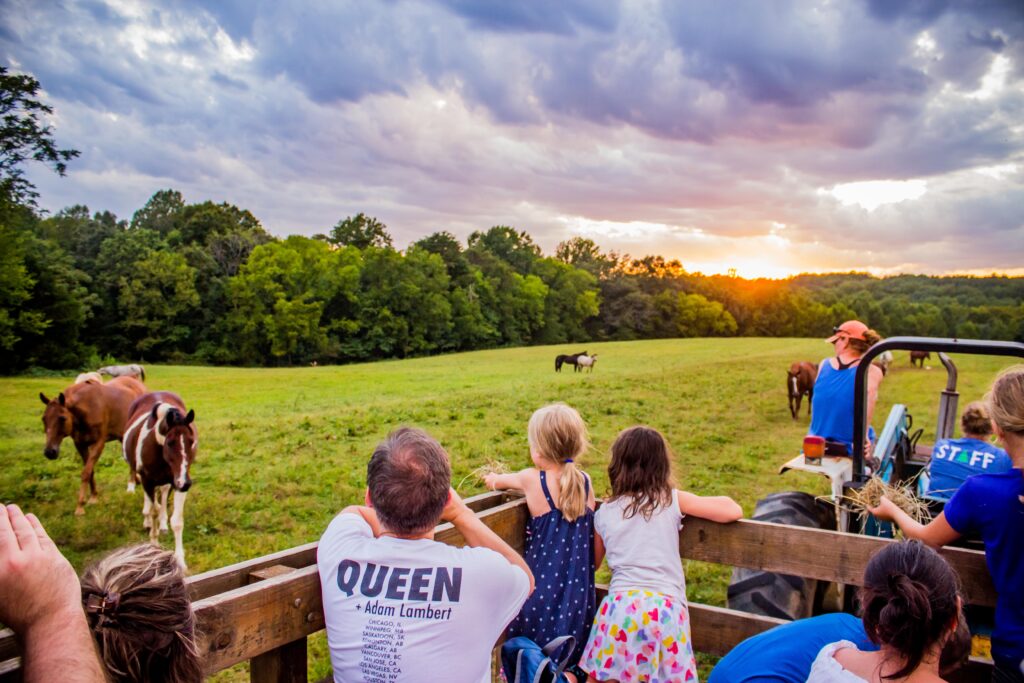 Activities
We encourage adventuring of all kinds! Family campers have the freedom to choose from a wide variety of daily activities. Programming will change with the season, but our activities are curated specifically with fun for all ages in mind. Guests have access to everything from Free Range "self-guided" activities such as hiking trails, fishing and multiple sports areas to Counselor-Led activities where our staff love seeing adults enjoy our programming just as much as the children! Flex your maker muscles at our Arts and Crafts Cottages or dip your toes in Friendship Lake. Try out horseback riding, canoeing, archery, and more. The fun doesn't stop when the sun goes down. Some of our favorite evening activities are lawn parties, dances and hay rides. We highly recommend finishing your day connecting around a campfire with s'mores – but we'll leave that up to you.
Lodging
We are a no-frills summer camp complete with charming old-school cabins. Families stay in their own traditional cabin with enough bunk beds to accommodate up to 12 family members, depending on the cabin. Our cabins are not air-conditioned, but offer just the right amount of rustic with electricity and screened windows. Some cabins have ensuite bathrooms for an additional charge of $200 (price applies for Summer Family Camp), while others have bath houses located a short distance away. Our humble accommodations enhance the simple pleasures that Camp Friendship is all about.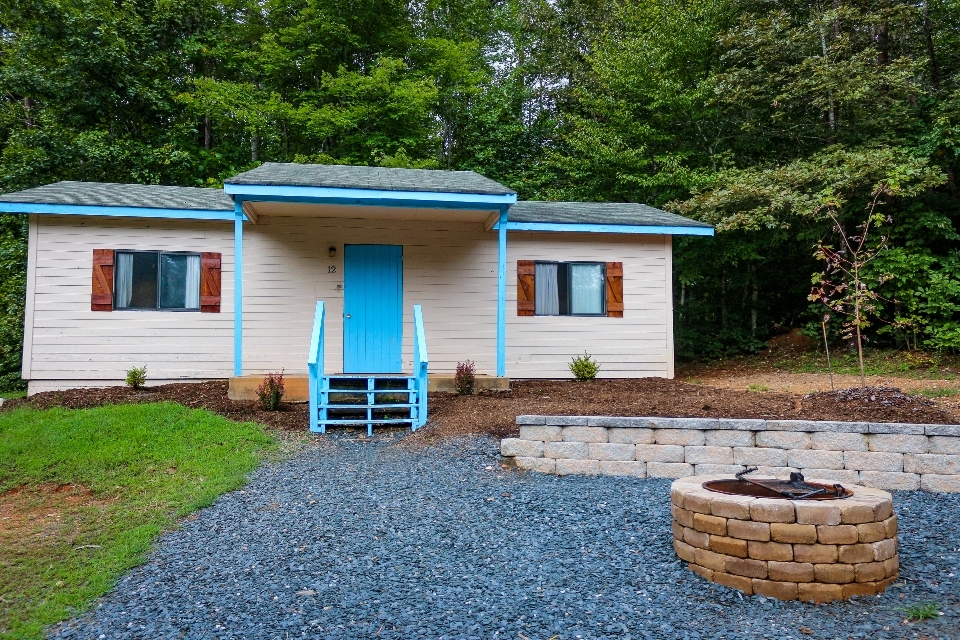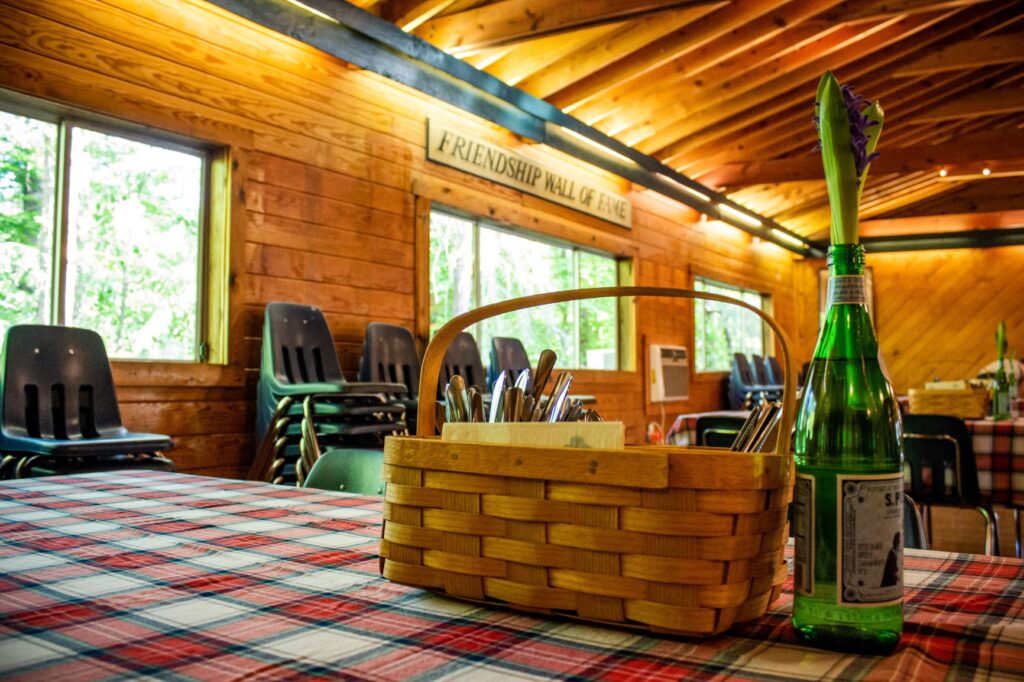 Meals
Family Camp is an all-inclusive family holiday where buffet meals are served in the Dining Hall three times a day, with plenty of delicious options for all tastes. All dietary needs are catered for including vegetarian, vegan, gluten free and nut free. Our menus celebrate seasonal local ingredients sourced from the area's bountiful farms and emphasize organic options whenever possible.
Frequently Asked Questions
---
Unfortunately, we are not for summer 2021.  We have a one-week option, but you may stay for two weeks as well.  If you are interested in staying with us for a weekend, you may prefer to register for our Spring and Fall Family Camp Weekend offerings.
If you are planning to stay the full two weeks during Summer Family Camp, you are welcome to stay in your cabin and on camp for the 24 hours in between sessions, but we don't offer food or Counselor-Led programming during this time.  We have loads of fun Free-Range activities for you to enjoy on our grounds such as hiking and fishing while our staff are off-duty in between sessions.  You can pack your own cooler and feel free to use the communal fire pits since firewood is complimentary.  Palmyra, Zion Crossroads and Gordonsville have big box and small-town restaurants that are sure to feed any craving with a few that deliver to our Camp Office.  If you're itching to get back to civilization for some chef-cooked grub, head away from camp toward Charlottesville where you'll find amazing restaurants with quality ingredients and tasty fare.
Cabins with ensuite bathrooms are first come, first serve.  There is an additional fee of $200 per week for those attending Summer Family Camp if they wish to select a cabin with a bathroom.  When registering for Family Camp, please indicate your bathroom preference and we will contact you with availability.  Fall and Spring Family Camps only utilize lodging with ensuite bathrooms due to colder weather, so no additional fee is required.
We are holding off on scheduling Spring/Fall Family Camp Weekends 2021 since things are still so unknown with the climate of the Coronavirus.  Once things become more certain, we hope to officially open registration.
Families that have opted to roll over will be given priority for registration before the online application is available to new families. That being said, we cannot guarantee or hold any spots without receiving an application
Families that have opted to roll over will be given priority for registration before the online application is available to new families. However, we cannot guarantee specific cabin or village requests. 
Yes, full refunds will be available until May 1st, 2021. No questions asked. Our cancellation policies are as follows: After May 1st, the $500 per family deposit is retained, but all additional fees paid are refundable. After August 1st, 2021 there are no refunds for cancellations or no-shows.
Renting a cabin during the pandemic is very different to our regular Family Camp program. Just think of it as camping indoors! Bring all sporting gear, linens, food and drinks. Be sure to bring all the typical camp fixings and the requisite chocolate, marshmallows, and graham crackers for s'mores! Our Dining Hall is closed, so families can cook on communal fire pits with complimentary firewood, venture off grounds to support local restaurants or arrange delivery to our main office from local eateries. 
We are offering limited programming such as scheduled canoeing, kayaking and lake swim hours, but will not offer evening activities, Kids Camp or many of the staff-lead program activities that occur during our summer Family Camp. Contact our Equestrian Center directly to arrange guided trail rides or hayrides for your group and arrange tennis lessons directly with Alina. All other activities are "free range," meaning they are self-guided where we provide the space and you bring your own equipment. Families are free to enjoy our outdoor communal spaces such as tennis courts, basketball gym, volleyball courts, picnic areas, hiking and biking trails and fishing spots.