Summer Camp Job Opportunities
A summer at Camp Friendship is unlike any other summer job!
Counselor Positions
Traditional Camp Counselors live in cabins with campers and teach or assist in activities. They are positive role models for our campers, embody our camp values, and are passionate about creating a safe environment for children. Counselors lead or assist at least four activities per day and bring the fun to both small and large group activities. They are responsible for the daily physical and emotional well-being of campers and understand the importance of setting our campers up for success.
Equestrian Camp Counselors must have experience riding and knowledge of horses. They live in the equestrian village with our horse crazy girls and assist campers with their daily routine while serving as a good role model to them. They teach or assist two riding lessons daily, both ring lessons and fun lessons such as trail rides, river rides and games on horseback. They teach daily horsemanship theory lessons as well as help with daily barn chores.
Supervisors are leaders in camp and set our counselors up for success in both village and program areas. The Supervisor team is composed of leaders who are responsible, enthusiastic, and willing to roll up their sleeves and jump in whenever and wherever needed. They are creative problem solvers who are passionate about exploring new ways to create meaningful camp experiences for everyone at camp. The Supervisor role is divided into unique areas within Village and Programming. They live in cabins with campers, teach activities, oversee campers and staff, and support the director team.
Additional Positions
Barn staff must have previous experience working around horses. They assist with the daily care of our herd and equestrian facility. Duties include feeding, mucking stalls, haying, watering, blowing aisles, clearing trails and upkeeping general cleanliness and tidiness of the facilities. Barn staff also assist with lessons as needed. Onsite housing and meals are provided.
Current Virginia RN license and CPR certification required.
The Health Center Assistant directly supports the Camp Nurse and assists with daily Health Center responsibilities including triaging campers and staff, coordinating medication distribution, communicating with Directors and more. Health Center Assistants are organized, responsible, detailed oriented, and strong team players. First Aid and CPR certification required.
Provides childcare for children of our year-round staff families and assists in program areas when necessary. The Camp Nanny is responsible for the wellbeing of the children in their care, creating a safe, engaging, environment that doesn't interfere with camp. Onsite housing and meals provided.
Housekeeping, Laundry, Kitchen, Marketing (Photography & Videography) – Experience in area of work preferred.
Hiring
Each of our approximately 100 staff members are carefully selected and must meet our founding principles of kindness and acceptance. All candidates undergo a thorough screening process including interview, references, and criminal background check in compliance with ACA standards. Staff must be prepared to live and work with children for 9 weeks of camp plus 1-3 weeks of training, depending on position.
International staff
Due to J-1 Visa regulations, we are unable to hire internationals directly without the use of a certified visa sponsor agency. These agencies help you through the rigorous screening process in your home country before interviewing with Camp Friendship. Please contact one of the following visa sponsor agencies who may work in your home country: Camp America, Camp Leaders, IENA, InterExchange, CIEE, or CCUSA.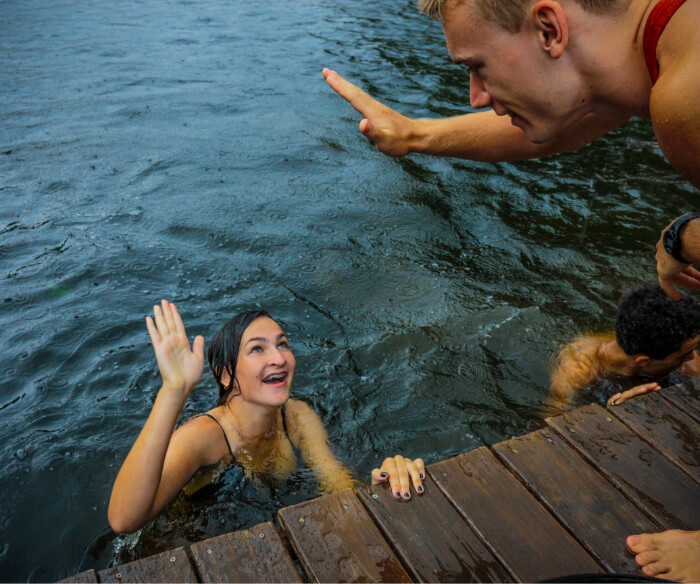 2024 Dates
Training Arrival
Supervisors: May 30
Equestrian Counselors and Lifeguards: June 3
All Staff Training: June 7
2024 Salaries
Staff is paid a weekly rate with room and board included. Note: International staff pocket money is determined by their agency and may be different than the salaries listed below.
Junior Counselor: $300 (Counselors under 18)
Senior Counselor: $400 (Counselors 18 and older)
Support Staff: $400
Supervisor: $450
Health Center Assistant: $400
Nurse: Camper tuition trade or contact us for salary details